Bevelled Kitchen Wall Tiles
Bevelled Kitchen Wall Tiles are very popular at the moment. They have recently made a huge comeback in the UK domestic market. With the massive variety of colours and effects available it is easy to see why!
Bevelled Kitchen Wall Tiles are the classic metro tile - with the bevelled edge and glossy finish, each tile is highlighted and stands out on the wall. You can influence the level of how each tile stands out with the grout colour. A grout colour the same colour as the tile will rely on the light in the room to highlight individual tiles and therefore the design of the kitchen wall tiles. Whilst a contrasting grout colour will maximise the visual impact of the tile design.
You can view tile design options on the tile design templates page. The 'classic metro look' uses a brick-bonded effect, but it is personal choice which style looks best.
Metro wall tiles, such as the Edge Tile Range (shown on this video) is perfect for kitchen walls due to their size and durability. The 300 x 100mm size fits perfectly on most kitchen wall spaces between the work top and the bottom of the cupboards on the wall. Kitchen splash backs are ideal for showing beautiful kitchen wall tile designs.
The Edge tile range comes in 5 beautiful colours; Sage Green is en vogue at the moment and adds a lovely calming feel to the kitchen, as does the muted Ice Blue with its tranquil qualities. If you neutral colours are more suitable for your kitchen colour scheme – Edge is also available in Bianco (white), Sabbia (beige) and Piombo (charcoal black).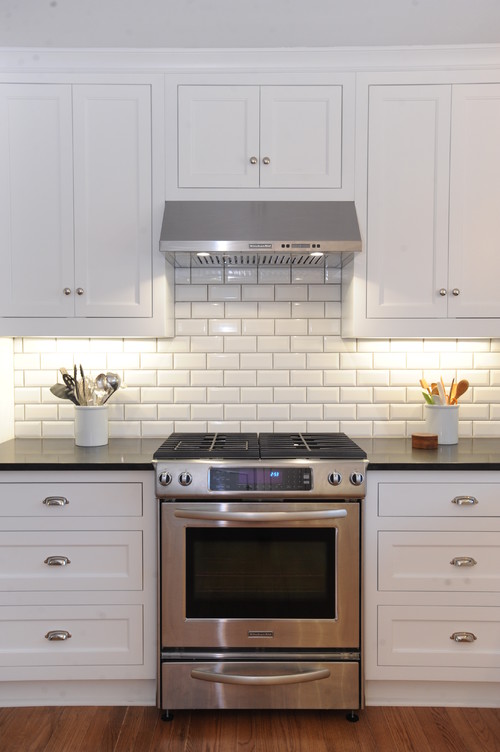 To add personality and individuality, you can experiment with different colours in your kitchen wall tile design, whether as a random selection or a chequer-board effect. You can also add a border that appeals to you, which will also add colour and texture to the wall as well as interest.
Make sure you have fun with your tile design and make it your own! Tileflair staff are available to give personal advice and recommendations on your forthcoming tile project. Contact the Helpdesk today and let us help you create something beautiful.