Tiles Can Colour Your Mood
If you're not a fan of the pale and you're trying to banish the beige then make colour your friend, or even better, your therapist.
Tiles come in so many colours, textures, shades and tints that the possibilities are endless empowering you to be as creative as you imagination lets you.
Living Room by Scotland Furniture & Accessories Houseology
The colours and the textures within a room determine its mood, and ours. We can look at boutique hotels for tiling ideas and inspiration and we can look to good coffee shops too. The café I'm sitting in as I write this has ceramic floor tiles, very similar to our San Gimignano Tortora floor tile, blood red walls, and eclectic wood furniture, and it works beautifully to create a sense of peace, relaxation and creativity.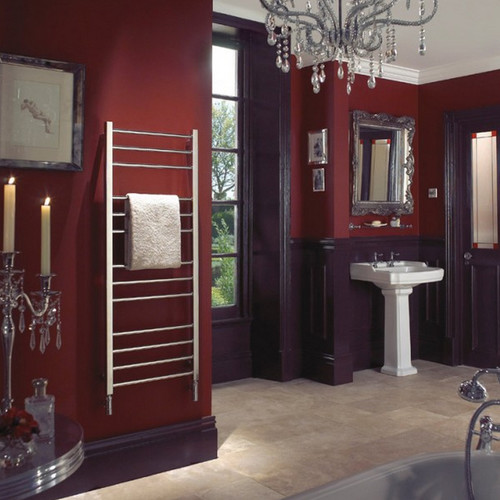 Contemporary Rendering by Yorkshire And The Humber Bathroom Designers & Fitters UK Bathrooms
Strong colour can be intoxicating, alluring. It can transport you anywhere you want to be, from a magical, exotic country with its azure sea and golden beaches, to a country retreat where history oozes from the walls. Many of us already feature colour in the artwork on our walls, which offer little pockets of our personality to visitors, so why not use bright colour on the walls and accompany it with stone or ceramic floor tiling that enhance both the wall colour, and the mood you're trying to recreate. Darker floor tiles such as our Trend Grafito teamed with bold colour like mauve or a deep red equals drama, decadence; lighter floor tiles like our Bavaria sand, with coloured walls, a shade of blue or green for example make the room feel brighter, more serene.
Contemporary Kitchen by London Kitchen & Bathroom Designers Roundhouse
If you don't like the idea of a whole house in vibrant shades then think about kitting out one room in the house with an abundance of colour that sings as you enter it. Personally, I love colourful hallways, they feel inviting, quirky and, done well can feel infinitely homely, showering you with a blast of colour and instantly lifting your mood as you enter your home. Start with the floor; patterned floor tiles such as our Artisan range set against bold orange or gorgeous green walls look amazing. The Victorians certainly knew how to bring mood into their rooms with this combination. The furniture in the hallway can either blend in with the wall colour or jump out with a contrasting colour. Use plenty of mirrors to bounce that lovely bold colour around the room for instant uplift.
Above image: Artisan tile series
There are certain rules in the use of vibrant colour; don't overdo it, for example. Keep it sane by restricting the colour palette to two or three but mix up your shades, blend your hues. Make your palette clash but make it colourful and be sure to enhance it with a suitable floor tile, which can make or break the overall look.
For more tips on how to be brave with colour, check out this houzz blog for inspiration.
Eclectic Bathroom by London Photographers Beccy Smart Photography & Tropical Living Room by Toronto Interior Designers & Decorators John David Edison Interior Design Inc.
When it comes to using strong colour we need to think outside our comfort zone. If we take a big colour risk with a small area, the gamble doesn't seem so overwhelming. If it doesn't work, change it, if it does then our yearning for colour, and the mood it creates, will be satisfied.
With colour we can be as daring as our personality allows, after all if we can't use a spectrum of colour in our own home, where can we use it?
Eclectic Kids by Breinigsville Interior Designers & Decorators Shoshana Gosselin
View More
The impact of dark or light grey tiles and where to use them
The beauty of grey is that it's not too strong a colour, but it's certainly not…
Read More