White Kitchen Tiles: UK designs
Many moons ago, the majority of UK kitchen wall tiles were white. They were clinical, functional and quite boring to say the least. Tiles can do so much more than serve the basic function of keeping your kitchen hygienic. Today, there are so many impressive white tiles available for the kitchen that you are allowed to introduce an element of fun to your tile designs! The good old basic white kitchen tile has twists of interest embedded in them.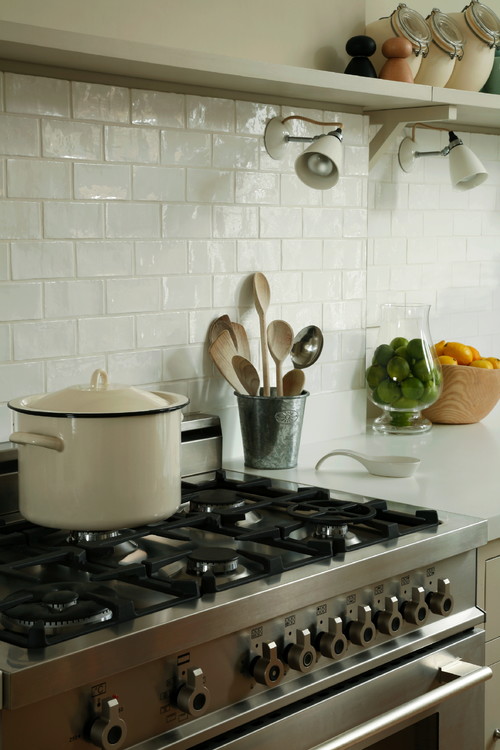 Contemporary Kitchen
by
London Kitchen & Bathroom Designers
Higham Furniture
&
Traditional Kitchen
by
London Kitchen & Bathroom Designers
Higham Furniture
Texture
White tiles will reflect the light in the room and make the atmosphere feel bright and airy. Just imagine a textured surface on the tiles to catch the light in the room such as the vintage looking Brick metro wall tiles. The small sizes of the tiles also add to the overall texture effect on the wall. This tile range looks fab with modern country style accessories such as wooden kitchen work surfaces and retro functional weighing scales, big clocks and open plan cupboards so you can see your pots and pans. A place for everything and everything for a place and all that.
Victorian Houses
Traditional style houses, such as Victorian houses will have original features worth highlighting, which can be done with a clever tile design. Windows and features on the ceiling will happily take centre stage if the tile design does not cry out for attention. White tiles will allow other features and appliances in the room to stand out, whilst adding depth to the overall design of the room. Tiles will support the overall atmosphere of the room. Detail can be through use of grout colour or choosing tiles such as the Tinte Matt décor to add a hint of texture to your kitchen space. Kitchen tiling hold many design possibilities.
Simple Shapes in Pale Tones
In order to make the room flow naturally, be sure to have consistently sized cabinets and appliances in neat rows. Try not to clutter or confuse the layout of the room. White is simple and clear in character, so your room should express this as well. Because light rooms 'flow' when flooded with light, limit the number of cupboards to avoid cramping the space. Think about the levels of shelving, cupboard and appliances so that you have clear lines around the room that balance.
Above image: Brick Kitchen Wall Tiles
White Wall Tiles are perfect for UK Kitchen designs.
With so many options available, be sure to let the Tileflair Helpdesk recommend tiles suited to your kitchen space and see the tile samples for yourself. We do love a good chat to get to the bottom of what will enhance your kitchen décor.

Above image: San Gimignano floor and wall tiles