Underfloor Heating
Can you have the best of both worlds; warmth underfoot and stylish floor tiles? Actually, yes, you can. In fact, floor tiles are a good partner to underfloor heating and help to create not only a warm but also a stylish home. Floor tiles, including porcelain and ceramic are ideal for use with underfloor heating as they tend to have good thermal conductivity and provide good heat output.
At Tileflair, not only are we tile specialists, we also know a thing or two about underfloor heating, offering advice and guidance for choosing the right tiles for your underfloor heating system. Our Devimat Underfloor Heating Mat for Concrete Floor is available in a range of coverages, for both concrete and timber floor, and is available online and in store.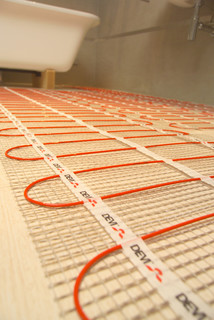 The Benefits of Underfloor Heating...
If you're interested in underfloor heating then you'll already be aware of the benefits it brings:
energy efficiency and low running costs - underfloor heating uses a lower temperature than standard radiators,
thus heating costs are reduced;
an even temperature, controlled by thermostats, (which we also sell) which creates a comfortable environment;
warmth gently radiates from floor level, heating the room evenly
freeing up wall space from bulky radiators;
the radiant heat produced by the system reduces humidity and air circulation, meaning that there are fewer dust mites and allergens in the air.
Obviously, the thicker the tile, the longer the heat will take to permeate, although once it's up to temperature the tiles retain the warmth very well. And, providing a high quality system is used and installed correctly, your underfloor heating system should not have any problems.
Imagine that comfort and warmth that comes with underfloor heating - that toasty toes feeling underfoot! Never again will you need to request slippers for Christmas. You'll be more than happy to go barefoot and rug-free to get the full benefit of underfloor heating, and coupled with some of our beautiful floor tiles, your home will be stylish too.